This beloved houseplant is known for its glossy, heart-shaped leaves and low-maintenance care. It's native to the lush rainforests of Central America and the Caribbean, and can climb up to 10 feet tall indoors.
You may hear it referred to by a few different names, such as Philodendron cordatum or Philodendron scandens, but its scientific name is Philodendron hederaceum var. oxycardium. And if you're interested in exploring the different types of philodendron, the variegated Philodendron Brasil (or Philodendron hederaceum var. oxycardium 'Brasil') is also a popular choice.
However, no matter which philodendron variety you choose, we're here to help you care for it with ease!
1. General Information
| | |
| --- | --- |
| Scientific name: | Philodendron hederaceum var. oxycardium |
| Common names: | Heartleaf Philodendron, Sweetheart Plant, Heartleaf Ivy, Vilevine, Parlor Ivy |
| Cultivars: | Philodendron hederaceum var. oxycardium 'Brasil' |
| Native to: | the rainforests of Central America and the Caribbean |
| Toxicity: | According to ASPCA, Heartleaf Philodendron is toxic to dogs, cats, and horses. |
| Mature size: | 4 – 10 feet (1.5 – 3 m) |
| Hardiness: | Not a cold tolerant plant, hardy outdoors in USDA zones 10+ |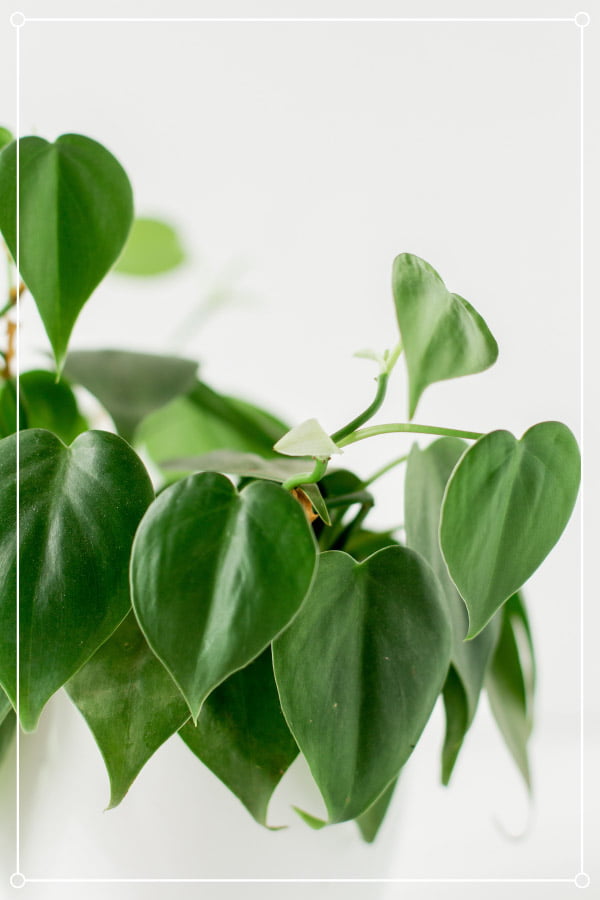 2. Heartleaf Philodendron Care & Growing Requirements
This undemanding houseplant is known for its hardiness and ability to tolerate some neglect, making it a great pick for a beginner gardener. However, it's important to understand that all plants have different needs, and the Heartleaf Philodendron is no exception. To keep your plant happy and healthy, it's essential to learn its "love language" and provide the proper care it requires.
» Watering
To properly water your Heartleaf Philodendron, replicate its native habitat by watering once the top half of the soil dries out. This can range from once a week to a few times a month depending on your home's environment. Avoid using cold water, which can shock the roots, and also look for signs of overwatering (yellow leaves) or thirst (wilting leaves) to adjust your watering schedule accordingly.
» Light
Heartleaf Philodendron is adaptable to low light conditions, but inadequate lighting may result in smaller or leggy leaves. The plant prefers bright, indirect light and should be protected from direct sunlight to avoid leaf damage.
» Soil
The best soil for Heartleaf Philodendron should allow proper drainage and root aeration while retaining moisture. Commercial mixes designed for Aroids work well, or you can make your own by combining regular soil with perlite, orchid bark or sphagnum moss, and worm castings for a slow-release organic fertilizer.
» Temperature
Heartleaf Philodendron thrives in temperatures ranging from 68-94°F (20-35°C) and can tolerate slightly cooler temperatures down to 55°F (12°C). In its native habitat, temperatures rarely drop below 68°F (20°C), but the plant can adapt to slightly lower temperatures as long as it is not exposed to prolonged cold spells.
» Humidity
Heartleaf Philodendron prefers higher humidity levels ranging from 60-80% for optimal growth, but can still thrive in average household humidity levels. Placing it in a bathroom or using a humidifier can help maintain the ideal humidity levels, resulting in larger and healthier-looking leaves.
» Fertilizer
While it's not necessary to fertilize a Heartleaf Philodendron, occasional feeding can promote healthier growth. A balanced fertilizer with a ratio of 10-10-10 or a diluted common liquid option can be applied once a month during the growing season (spring and summer) and every other month during the colder months. However, it's important not to over-fertilize as it can lead to root burn or yellowing leaves.
3. Heartleaf Philodendron Maintenance
» Repotting
Heartleaf Philodendron requires repotting every 2-3 years, and in some cases even more frequently. If you are unsure how long your plant has been in its current pot, look for roots poking out of the drainage holes or above the soil as an indication that it needs repotting. The ideal time to repot is in late spring or early summer, and it's best to wait until then.
When repotting, choose a pot that is 1-2 inches (2-5 cm) bigger than the current one. Ensure that the pot has drainage holes as the plant loves good drainage. Consider a porous pot like unglazed terracotta or clay.
» Pruning
While not mandatory, pruning Heartleaf Philodendron once or twice per year (in spring and fall) is recommended to remove stunted growth or maintain the plant's desired length or shape. This encourages new growth and a bushier, more compact and healthy-looking plant. Throughout the year, remove any dead leaves or branches and frequently dust off the plant.
» Propagation
Heartleaf Philodendron propagation is easy, and it's best to do it after pruning. Cut 3-6 inches (7-15 cm) long stems and place them in water. Cut the stems below the leaf nodule as new roots will develop from there. Once the stems develop roots, it's time to move them to their own pot.
Check out our article on different ways to propagate a philodendron for more information on this!
4. Common issues
Some issues might appear even when caring for a low-maintanance houseplant. However, by identifying them at an early stage, further damage can be prevented. Here are some common signs to look out for:
» Yellowing leaves
Improper watering is the most common cause of yellowing leaves. Overwatering can cause leaves to become yellow and mushy, while underwatering can result in withered yellow leaves.
Low light, low humidity levels, and pests can also cause yellowing leaves, so make sure to place your philodendron in a spot that meets its growing requirements and check it periodically for sap-sucking bugs.
However, if you see a yellow leaf at the base of your philodendron from time to time, don't worry about it. It's natural for some leaves to die out as new growth appears.
» Wilting and brown-edged leaves
An underwatered Heartleaf Philodendron will display wilted and brown-edged leaves, symptoms associated with drought stress. In this case, you should optimize both the watering frequency and the amount of water your plant receives.
» Long stems or smaller leaves
When a Heartleaf Philodendron doesn't receive enough light, it starts to become leggy or produce smaller leaves. To address this, place your plant in a spot with bright, indirect lighting while avoiding direct sunlight.
5. Dealing with Diseases & Pests
Heartleaf Philodendrons are resilient plants, but they can still fall prey to various pests and diseases. Here are some common ones you might encounter, and how to address them.
» Root rot
Root rot is the leading cause of death in Heartleaf Philodendrons and is caused by overwatering, especially in winter. Signs of root rot include yellowing, wilting, or drooping leaves, especially when the plant has been frequently watered (since these signs are also characteristic of underwatered philodendrons).
If root rot is confirmed, you'll need to remove the plant from its pot as soon as possible, clean off the dirt from its roots, remove the affected ones, and then plant it in quality, well-draining soil.
» Fungus gnats
Fungus gnats are a type of small, dark fly that likes to lay its eggs in damp soil. Although the adult flies themselves are mostly just a nuisance, their larvae can damage your plant by feeding on its roots. To get rid of them, it's important to stop the larvae from developing further. A combination of top-dressing, sticky traps, and nematodes soaks can be effective in disrupting the life cycle of both adults and larvae.
» Spider mites
Spider mites are tiny pests that can appear almost anywhere, and are often identified by small discolored markings on your leaves, along with webs and small moving dots. Infestations should be addressed promptly, and we recommend checking out our article on getting rid of spider mites for more information.
» Aphids
Aphids feed on the sap found in plant leaves and can transmit plant diseases, so it's important to act fast if you spot them. Sticky substances on leaves or stems can be a sign of infestation. Insecticidal soap is typically effective in eliminating aphids from your Heartleaf Philodendron.
» Scales
Scale bugs are another common pest that can harm your Heartleaf Philodendron. They come in various colors, from white to dark brown, and can cause bumps or a sticky substance to appear on your plant's leaves and stem. Neem oil or insecticidal soap can be used to eliminate these pests.
Conclusion
Heartleaf Philodendrons are a great choice for those seeking a low-maintenance plant that is both beautiful and adaptable. With proper care, they will thrive and signal any issues through changes in growth and appearance. And if you're interested in exploring other options for plants with heart-shaped leaves, be sure to check out our article on the topic.