Air Plants (Tillandsia spp.) are one of the most popular indoor plants. And for good reason, as there are over 600 species of Tillandsia out there. They come in so many shapes, sizes, and colors that is almost impossible to pick your favorite
In this article, we will discuss some of the most creative ways to display your air plants. All you have to do is pick your favorite and start decorating.
1. Macrame Air Plant Hanger
If you are in the mood for some DIY and just got some air plants, you can use macrame hangers to display your air plants.
The best part about macrame hangers is that you can create your own. This means that you can decide how long it will have to be, where it should be placed, what colors it should have, and so on.
So if you feel like displaying your air plant in a pink macrame holder that also has a few stickers on it, there's nothing that can stop you! You can go as creative or as big as you want.
2. Make A Pot Out of Anything
Air plants are extremely easy to care for. They don't need soil or pots with drainage holes, which makes them extremely versatile.
So, if you've got anything that resembles a pot, even a fancy bawl, you can use it to display your air plants. Nobody will know that that wasn't the intended purpose of the container, since your air plant will look stunning.
And if you want to go extra, you can always opt for a fancy bowl made out of quartz, stone or wood. Again, the possibilities are endless.
3. Go Extra With Head Planters
Head planters are an amazing way to display your air plants. I think this is one of the coolest ideas since air plants are a great fit for the hair part.
There are so many head planters out there that you can pick the best one for you based on your style and preferences.
If you are a dog lover, you can opt for the corgi planter. If you love cats, you can get one that resembles a cat. You can even pick a Baby Groot planter.
4. Try an Aerarium
Aerariums are basically terrariums for air plants. The best part about aerariums is that they are extremely easy to make and maintain. From fancy pebbles to sand and decorations, you can add whatever you want to your glass bowl.
Another benefit of putting your air plants in an aerarium is that it will keep the humidity in and make your air plants happier than in a normal environment.
However, make sure the base you use for your air plant terrarium is completely dry, as you don't want your Tillandsia to lay on moist surfaces. When it comes to watering, you will have to take them out, soak or mist them and put them back after they are completely dry.
5. Use an Air Plant Holder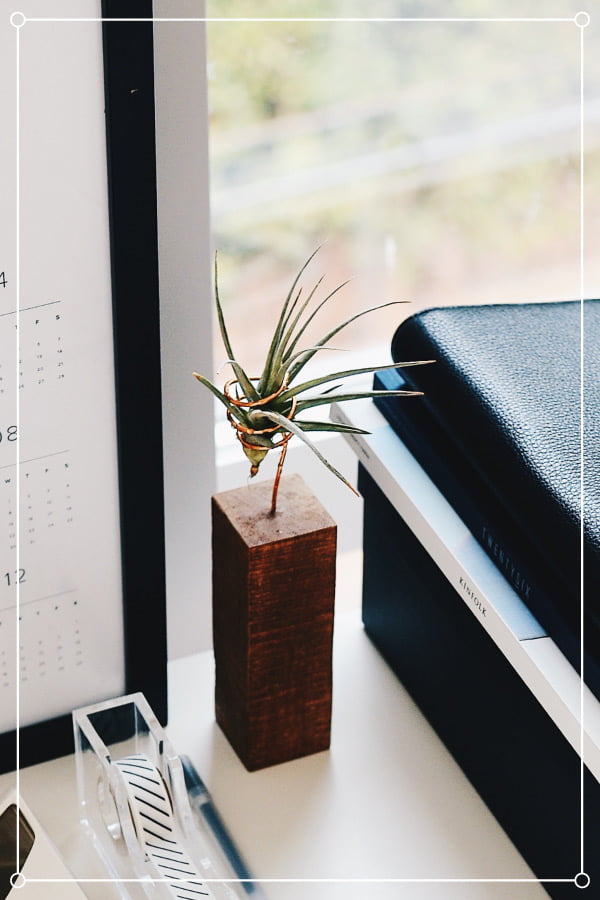 Did you know that there are holders specially designed for your air plants? Honestly, I feel like they look a bit like egg holders, but they do the trick.
Air plant holders come in a variety of shapes, so there's almost impossible not to find one that works with your style and aesthetics. Since they are on the minimalist size, they look amazing on desks.
So if you are looking for an excuse to bring your air plants to work, this would be the perfect one.
6. Hang Your Plants in Glass Containers
Glass containers are another minimalist approach to displaying your air plants. They are extremely stylish and give you a 360-degree view of your Tillandsia.
They also come in different shapes and sizes, so it will take some time to pick your favorite one.
7. Create an Air Plant Box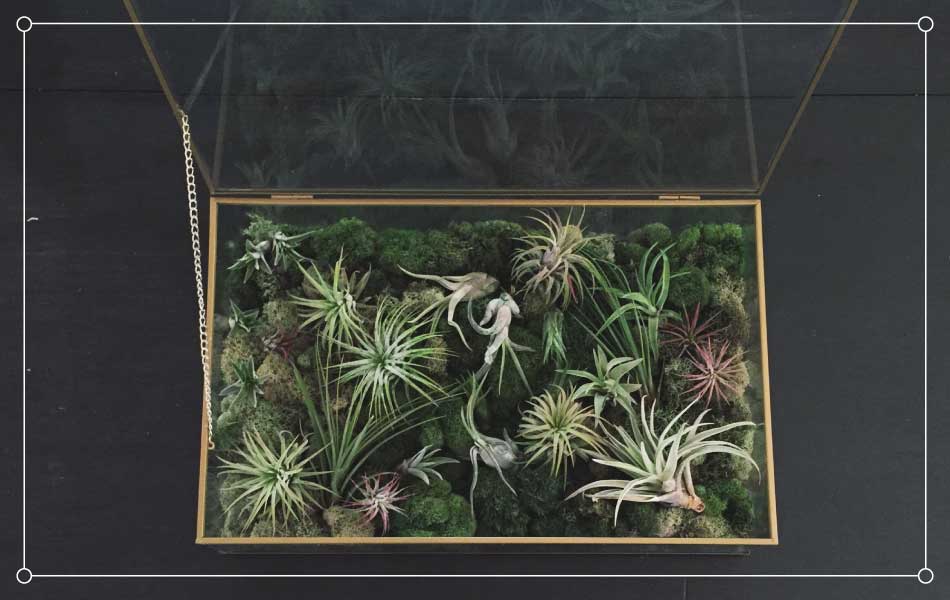 If you've got way too many air plants, picking a holder for each of them might not be the best option, since it can get a bit pricy. So, an easier option would be to put them all in a box.
Similar to aerariums, you can combine stones, moss, and sand to create a base for your air plants. Then, all you have to do is place your Tillandsia however you see fit.
Again, make sure that the base is not wet and there's not a lot of moisture in your box. If you want to water your plants, you have to take them out, soak or mist them, and put them back after they are completely dry.
Conclusion
There you have it, our guide on decorating with air plants. They are extremely versatile and can bring creativity and color to any house. Since they are easy to care for and are usually hanged, they are a good fit for both brown-thumbed gardeners and pet owners.