Philodendron and Pothos are two of the most popular and easily recognizable houseplants, but they're often mistaken for each other. Even experienced plant parents can sometimes get confused.
While they might appear similar at first glance, there are distinct features that set them apart—from leaf shape and texture to aerial roots and new growth patterns. This guide will walk you through the key differences so you can identify them with confidence.
1. Taxonomy
To begin, let's delve into the scientific classification of these two beloved houseplants.
| | | |
| --- | --- | --- |
| | Philodendron | Pothos |
| Family | Araceae | Araceae |
| Subfamily | Aroideae | Pothoideae |
| Genus | Philodendron | Epipremnum |
| Order | Alismatales | Alismatales |
Both Philodendron and Pothos belong to the Araceae family and the Alismatales order, which might explain their similarities. However, they are different when it comes to the subfamily and genus levels, which contribute to their distinct features.
2. Leaves shape & texture
Leaves are often the first clue in distinguishing between Philodendron and Pothos.
Philodendron: The leaves generally have a heart-shaped contour and feature a somewhat delicate, thinner texture. They may also have more pronounced lobes, giving them an almost velvety appearance.
Pothos: In contrast, Pothos leaves are chunkier and have a waxy texture, making them appear more robust. They can also showcase a variety of variegations, including marbling and speckling.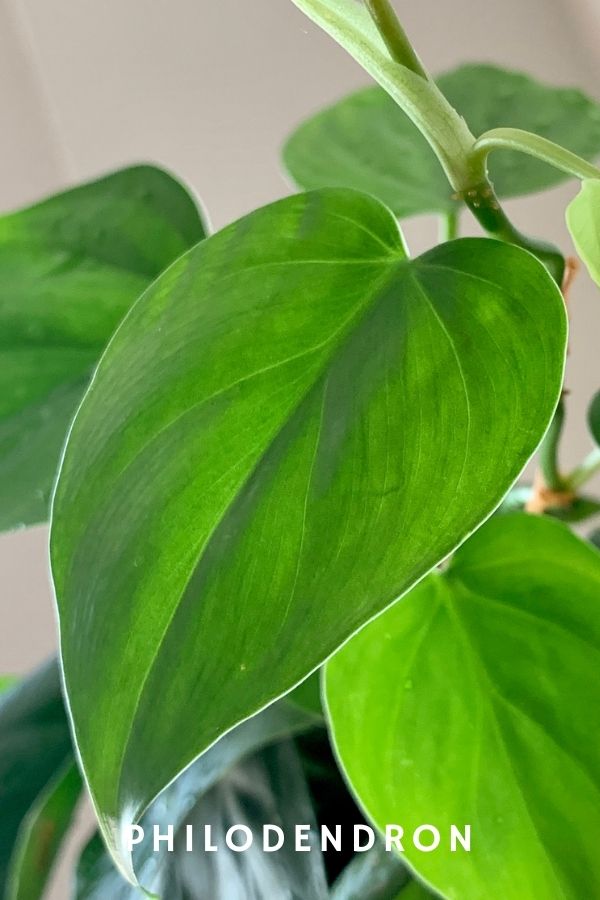 3. Aerial roots
Aerial roots can also serve as a valuable indicator for distinguishing these plants.
Philodendron: These plants typically have multiple, smaller aerial roots protruding from each node, which can cling to surfaces and absorb nutrients and moisture from the air.
Pothos: Pothos usually have a single, more substantial aerial root per node, primarily used for climbing and supporting the plant's weight.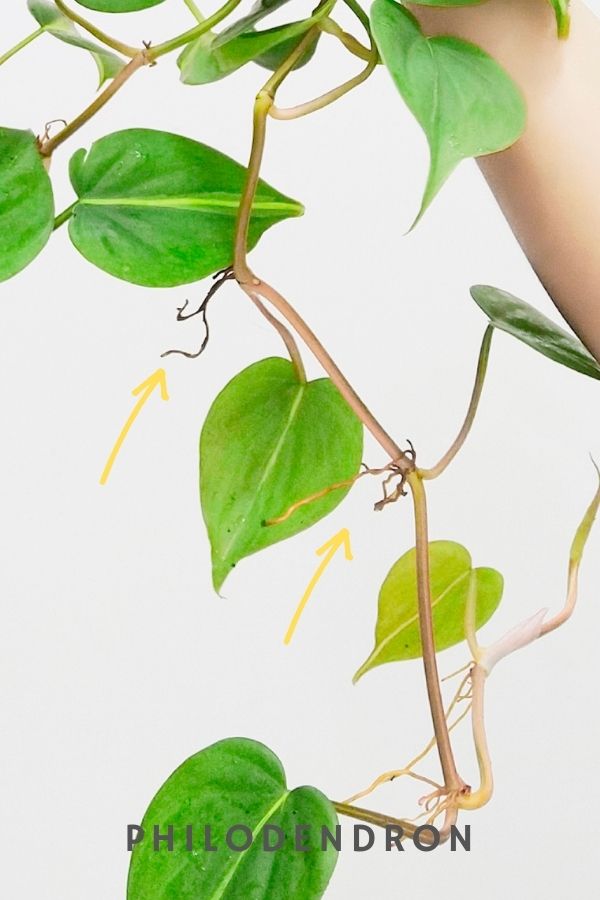 4. New growth
Observing how new leaves emerge offers additional insight.
Philodendron: New leaves are usually encased in a protective sheath known as a cataphyll. These cataphylls serve to protect the young leaves as they develop and will eventually dry out and fall off.
Pothos: New leaves in Pothos plants unfurl directly from the existing leaves, bypassing the need for a protective cataphyll. This results in a cleaner appearance as there are no dried remnants left behind.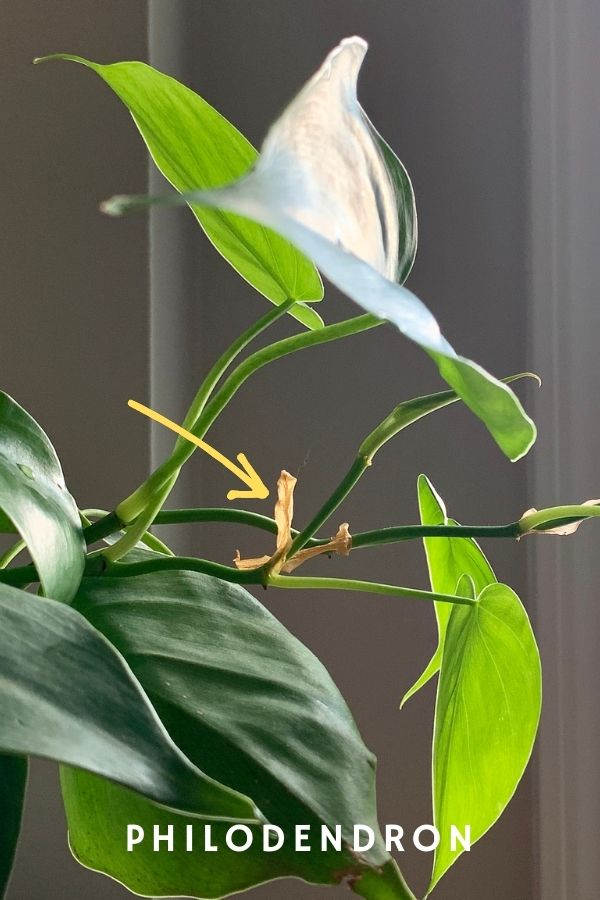 5. Petioles 
Last but not least, let's discuss petioles—the stalks that connect the leaf to the stem.
Philodendron: These plants have round and symmetrical petioles, making it easier for them to climb and attach themselves to supports.
Pothos: Pothos petioles feature a distinct groove or indentation, which aids in distinguishing them from Philodendrons even further.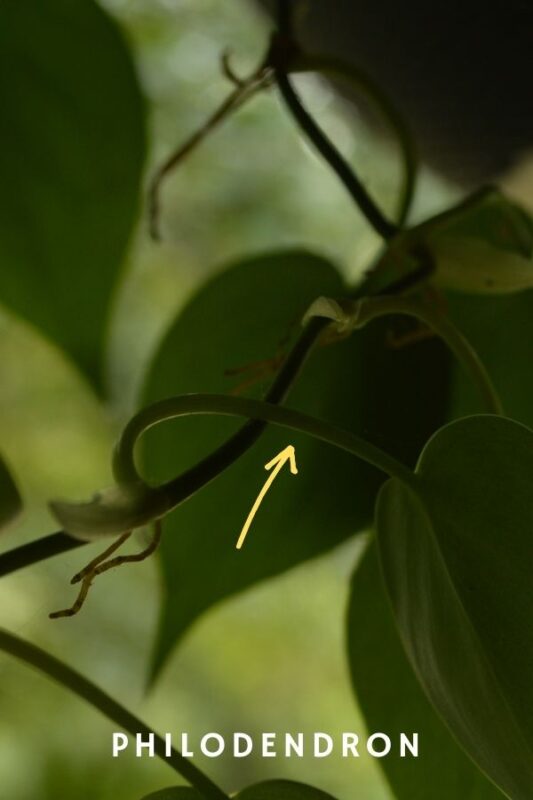 6. Popular Varieties
Both Philodendron and Pothos have numerous popular varieties loved by plant parents and casual growers alike. These varieties can differ substantially in leaf color, size, pattern, and even growth habit. Whether you're looking for a trailing plant that drapes beautifully from a hanging basket or one that serves as a focal point in your room, both genera have something to offer.
Philodendron Varieties
Philodendrons varieties range from trailing plants perfect for bookshelves or hanging baskets, to imposing upright types that can become the centerpiece of a room.
Some come with solid green leaves, while others feature intricate variegations in shades of pink, white, or yellow. The leaf textures can vary as well, from glossy to velvety, offering something for every aesthetic preference.
Pothos Varieties
Pothos plants are equally diverse, offering a range of leaf variegations that include spots, marbling, and intricate patterns. Their growth habits also vary; some are excellent trailers, while others grow more compactly, making them suitable for small spaces. The leaves can range from a solid, vibrant green to mixes of gold, white, or even silver.
Conclusion
While Philodendrons and Pothos may seem virtually identical to the untrained eye, their differences become clear when you know what to look for. By paying attention to features like leaf shape and texture, aerial roots, new growth patterns, and petioles, you can become an expert at telling these two plants apart.
And if all else fails, you can always rely on plant identification apps to assist you.